PSYCHOTHERAPY
WITHOUT SHAME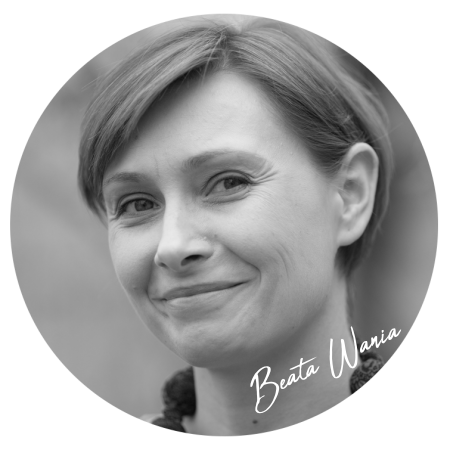 I am a certified psychologist, a psychodynamic psychotherapist (TFP) in the process of being certified, a psychosocial skill trainer, an educator, as well as a teacher of Polish as a second language. I work in Polish and English.
I direct individual psychotherapy to adolescents from 12 years of age to adults. I work with individuals experiencing personality disorders, sleep disorders, anxiety, neurosis, depression, difficulties in relations and with those going through personal crises caused by various factors. I also treat patients with eating disorders, psychosomatic disorders, as well as people experiencing excessive stress and stage fright. I gained my professional experience in psychological pedagogical counselling centres in Krakow, educational and training centres, Psychosis Treatment Outpatient Department of the University Hospital in Krakow. I currently work at the Psychological and Pedagogical Counselling Center and run my own office which was established in 2016. My work is regularly supervised by individuals and groups. My methods are adjusted to individual needs of each patient and the problem they seek to resolve. Psychodynamic psychotherapy involves treating patients' mental problem as well as personality disorders by using real and deep relations between a patient and a therapist. Face-to-face therapeutic meetings are meant to better patients' mental state, decrease or altogether eliminate any symptoms they experience and thus improve their overall quality of life and everyday functioning. This type of therapy is recommended to patients at any age. "Zajęcia były prowadzone w sposób rzetelny. Pani Beata odznaczała się wysokim poziomem wiedzy merytorycznej i profesjonalizmem."
"Pani Beata jest bardzo miłą a zarazem kompetentną osobą. Cierpliwa ma profesjonalne podejscie do pacjenta. Osoba godna zaufania. Polecam."
DiNuovo
Psychoterapia i Edukacja Beata Wania
Gabinet: ul. Pułaskiego 8/92, 30-305 Kraków
Dane firmy do faktury:
DiNuovo Psychoterapia i Edukacja Beata Wania
ul. Leonida Teligi 15/26, 30-835 Kraków
NIP: 6792463278
Psychoterapia to szansa dla Ciebie, aby odzyskać właściwy rytm życia